It has been an interesting process to find myself in the role of client for a change, since I am also my own realtor! We have recently gotten our house under deposit (with the help of a great Maple and Main Realty buyer's agent, as it turns out), here in Northampton. It has been on the market for almost two years. It's a big house, and it's beautiful, but it is (and was) expensive, especially by Northampton standards. Houses at the higher end of the market don't tend to sell quickly in our city.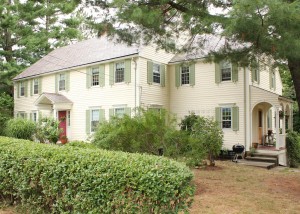 One thing about having had the house on the market for awhile was that we have slowly made improvements to the house that have helped it to sell. At first we hoped to sell it as is, and, granted, "as is" - to our minds - was pretty great. But our house is nearly 100 years old, and we have opted not to strip it of all of its' original character, as that is what drew us to the house in the first place. We loved the original 12 x 12 windows, the kitschy 1960's linoleum in the upstairs bathrooms, the quirk of having 3 full baths upstairs, and NO bathroom on the first floor. We assumed there would be a like-minded buyer out there. But, apparently, these quirks were not so charming to the people looking at our home. After much deliberation, we finally decided to replace our lovely windows with high end insulated Pella windows:
This is one of the original windows flanked by the new windows.
We also put in an adorable 1/2 bath on the first floor.
In addition, we removed the groovy linoleum and put in marmoleum floors in the upstairs bathrooms, and replaced one of the beautiful old sinks with a more updated vanity. Lo and behold, our house now has a buyer!
The point of this story is to convey that there may be changes that one should consider making in order to sell ones' home. Prioritizing those updates is something that your seller's agent can help you with There are many ways to look at the situation. Does it make sense to pour money into updating your kitchen when your house is not well insulated, has old wiring, original windows, an outdated heating system and needs a new roof? The answer is no. But it also depends upon the seller's goal. Is the goal to sell as soon as possible, or to recoup what you have paid and put into the house? If you are struggling with similar questions, now would be a great time to get the opinion of a real estate professional.