The Daily Hampshire Gazette, our local Northampton, MA newspaper, ran an interesting article this week about the dearth of inventory of homes for sale in the Pioneer Valley. The article suggests that homeowners are staying put, vs. downsizing or retiring and moving, as a contributing factor to the low inventory of homes for sale. The article also points out that while there may be low inventory of houses on the market, it's a very good time to buy, as mortgage interest rates remain low.
A quick check of the MLSPIN (Multiple Listing Service Property Information Network) - the MLS database for Western MA, today shows 69 homes for sale in the $200,000 to $500,000 range in Amherst, Northampton and Easthampton; and 29 listings in the $505,000 to $1,500,000 range in the same 3 communities. On a micro level, what we realtors at Maple and Main tend to see, is that the majority of buyers we work with are looking to buy in the under $500,000 range, but within walking distance to town. The problem is that houses which fit that description are few and far between. While you may find a house that is within the under $500K price range and close to town (whether it be Northampton, Florence or another local community), it will often need some TLC, have a small yard, be on a busy road - or have some other perceived negatives. Once the spring market becomes active, we do tend to see a great deal of foot traffic at our open houses -- as if buyers have been waiting in the wings for inventory to hit the market.
The article also states that it pays to be ready to go, so that you can take immediate action when the house you are looking for becomes available. This means being prequalified with a (local) bank so that you can make a competing offer right away. And to have a buyer agent with whom you are working, so that you can monitor the MLS together, and be ready to see houses as they become available.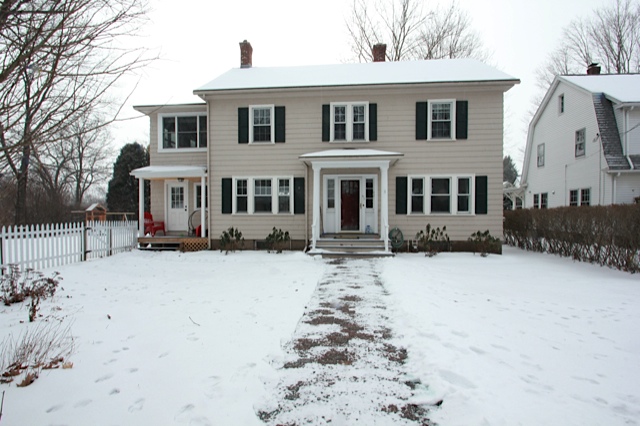 65 Fairview Street in Northampton. Sold in 2015 by Maple and Main Realty, LLC
For the full article, read on below.
Inventory woes hit Valley's housing market


By DAVE EISENSTADTER

Monday, February 22, 2016

NORTHAMPTON — The buzz words that have always made the Valley's housing market attractive — stability and steady growth — remain the same in 2016, but experts are sounding an alarm over another phenomenon that is pulling the market down.

There simply aren't enough homes for sale, said Rick Sawicki, owner/manager of Sawicki Real Estate in Amherst and 2016 president elect of the Real Estate Association of the Pioneer Valley.

"There's a lack of inventory and that's across the state," Sawicki said in his office earlier this month. "That's why sales haven't bounced up as much as we'd like them."

Sawicki believes the market has bounced back to where it was in 2007 and 2008 before the recession that slashed housing prices. But due to pent up demand, the houses that are going on the market are being quickly snatched up, he said.

This is good news for sellers looking to unload their homes quickly, though prices have yet to bounce back to pre-Recession levels. The good news for buyers is that interest rates remain at historic lows, but they'll have to act fast to snare their dream home.


At the market's peak in the spring of 2008, for example, there were about 130 houses for sale in the Amherst area. The average over the past several years has been 70 for sale. Now there are 38 houses on the market, he said.

In 2014, 1,062 houses were sold in Hampshire County and that number increased 17 percent in 2015 to 1,242, according to statistics compiled by the Massachusetts Association of Realtors. The median price of homes sold in the county dropped slightly in 2015, to around $257,000 compared to $260,000 from the year before.

Hampshire County is lucky because it has the five colleges, Sawicki said. Unlike in other states where residents can depend on factories that might close or move overseas, the University of Massachusetts and the other institutes of higher learning are stable, he said.

The region has slow years when UMass has hiring freezes, but then will have great years when the university expands, he said.

"The plus side for us is that they are not going anywhere," he said.

The new reality?

Sawicki said he and other Realtors are just now starting to figure out why there have not been as many homes for sale. People are staying in their homes longer rather than downsizing due to drops in housing prices. People are also working for more years rather than retiring, he said.

Additionally, would-be first-time owners are saddled with college debt, which has become a centerpiece of the presidential campaign on the Democratic side, he said. That means some live with their parents, giving further incentive for their parents to keep their larger home.

Sawicki hopes this isn't the new reality.

"We don't see as many first-time home buyers," he said. In prior years before the recession, Sawicki said about a third of his customers were buying their first home. At the moment, he said he does not have any.


Stability continues

Craig Della Penna of Murphy Realtors said at his Florence office earlier this month that the key to the Valley's stability in this market is its connection to walkable downtown areas.

"Places like Southern California and Arizona, places where there were huge tracts of cookie cutter locations, took it on the chin the worst," he said. "That doesn't fit the description here."

According to Della Penna, historic neighborhoods featuring grid-pattern streets, sidewalks and porches are the ones that are resilient and popular.

"That is the location of the future," he said. "That type of a layout held stronger and after the recession that is where people want to be."

He said living in the communities of the Valley brings out civic engagement in people, and residents find themselves more invested in their neighborhoods.

"That means joining thankless long hours on boards and commissions here in the city as a volunteer, or they will participate in ways they probably didn't where they used to live," he said.

Della Penna's specialty is selling houses near conservation land, particularly near bicycle trails that have been converted from old railroad tracks. He believes that such trails have the power to revitalize neighborhoods.

As for the recession, Della Penna said he knew the region had moved beyond it shortly after the 2012 election. Sixty prospective buyers came to an open house the following month in a Florence location.

"Realtors that were experienced around here, we knew we were out of the recession," he said.

Della Penna had 25 sales in the past year, he said. At the same time, his business skews toward the higher end houses, meaning that he has not sold to as many first-time buyers. He described the market as a seller's market, meaning that those selling homes have the upper hand over those buying them.

Interest rates

Though they have to act fast, buyers can still take advantage of historically low interest rates despite a recent rate hike approved by the Federal Reserve.

"We heard so much about the federal rate going up, but in actuality rates have come down," Barbara-Jean DeLoria, senior vice president and director of mortgage lending at Florence Savings Bank, said in an interview this month. "The fed has lowered the interest rates over the past few weeks, which is really interesting."

Florence Savings Bank offers a 3.75 percent 30-year mortgage.

"We really are at the bottom," she said, referring to the rate. "In my 25 years of banking I have seen rates that have been at 12 percent, 7 percent and now as low as 3.5 percent."

She said she does not expect rates to rapidly increase any time soon. "I don't think the state of the economy can sustain that," she said.

DeLoria said the bank determines a potential buyer's debt-to-income ratio to decide what amount they can afford to borrow. By prequalifying a customer in this way, it gives that customer the knowledge of what they can afford and the power to negotiate, she said.

Mortgages are on the rise in the area. Florence Savings, for example, in 2014 approved 400 mortgages, and in 2015 the number was 523, according to DeLoria.

Countywide, the value of all mortgages rose about 17 percent — from $667 million to $782 million — keeping up with the increase in home sales, according to DeLoria.

Realtor Rachel Simpson of Goggins Real Estate based in Northampton is waiting for the spring.

In the winter of 2014, sales were down because of the cold and snowy weather, and then the market picked up in the spring, as it always does, she said.

Up until some recent snowstorms, the market remained active, but it is slow due to a lack of houses on the market.

"There's a lot of buyers looking for inventory and there isn't much inventory," she said.

The hottest time of the market is the spring, and for that reason many prospective sellers and buyers wait until then to become active in the market.

At the same time, preparing to buy or sell can take time, so Simpson is advising sellers to start cleaning their house and preparing it for showings and buyers to go out and look at some homes.

Simpson said with online listings there is a lot of cursory information available, but that nothing replaces going to see a house in person.

"I encourage people to look and not to be afraid to go look at something even if they are not sure," she said. "The more you know, the better off you are and the better informed you're going to be to putting in an offer."

Dave Eisenstadter can be reached at deisen@gazettenet.com.