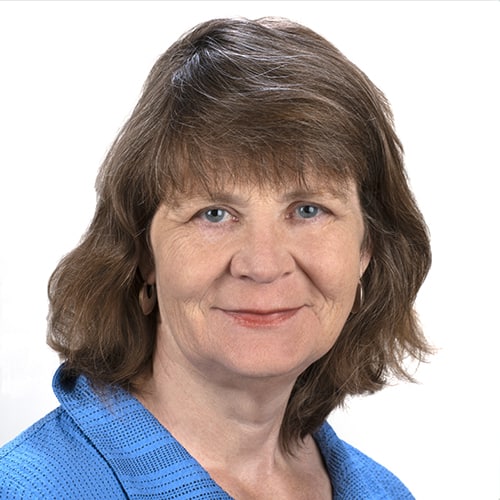 Associate Broker
|
Realtor
Rachel is known for her calm, experienced approach to real estate and deep knowledge of the area. Clients have noted that her practicality, responsiveness, and sense of humor are part of what make buying and selling with her as low-stress as possible. [...]
Rachel is known for her calm, experienced approach to real estate and deep knowledge of the area. Clients have noted that her practicality, responsiveness, and sense of humor are part of what make buying and selling with her as low-stress as possible.
Often mistaken for a Northampton native, Rachel has only lived in the city since she was 6, except for a brief stint in Austin, Texas in the 1980s. She is a graduate of the Ada Comstock program at Smith College and worked for many years as a writer and editor. She began that profession as an obituary writer at the Daily Hampshire Gazette, was an editor at the award-winning magazine, Wondertime, and did intermittent freelancing for small business, area colleges, arts organizations, non-profits, and two Fortune 500 companies
Rachel was a longtime member and chairman of the Board of Directors at Pioneer Valley Ballet (and occasional performer). Despite years of training when she was young, her ballet skills are quite limited, so she performed primarily as Mother Ginger in the Nutcracker, with other occasional small roles. She is a former member of the Board of Trustees at Historic Northampton and a dedicated supporter of the organization.
Competitive only about spelling, Rachel is very proud to have been part of a team that has won the Northampton Education Foundation Spelling Bee a record-setting four times. She is obsessed with the New York Times Spelling Bee (and frequent Queen Bee) and has recently been sucked into playing Wordle. Do not challenge her to Boggle unless you like losing.
She lives in Florence with her husband Chris and two dogs, Mini and Lulu. Her grown daughter, Michaela, lives in New York City.
Office Location
28 North Maple Street
Florence, MA 01062
Specifications
Languages:
Specialties:
Service Area:
Rachel's Testimonials
Rachel helped us tremendously in buying our first home. She made the process of looking for homes and eventually purchasing one as easy as possible. She is knowledgeable, easy to communicate with and she kept us informed every step of the way. Highly recommend!
B. Jones
Rachel recently sold a house for us. Her expertise and knowledge of the real estate market helped us arrive at an acceptable price for the house. She then actively marketed the house by holding open houses and did aggressive advertising. When there was an interested buyer she worked closely with us to get the best price and to facilitate the sale. We had no experience with selling real estate so she patiently answered our many questions and put our minds at ease with the entire process. I [...]
Linda Strong
The best! Responsive, informed and very capable and with the rare capacity to understand and interpret what you are looking for. She helped us through a bad situation to the perfect home.
jeanwillow
Rachel Simpson was my agent on a recent home purchase in Northampton, and I recommend her highly. Rachel understood the kind of house I was looking for, and went out of her way to let me know of listings of houses that might suit. Her local knowledge was invaluable, and she made sure the purchase went smoothly, even though we were out of town. She always kept me informed, and was extremely pleasant to work with. I knew I had a capable and thoughtful representative in Northampton!
Katherine Wyatt
Rachel Simpson was an incredible asset in my 1031 search for substantive income producing rental properties in Northampton MA, against hard closing deadlines and in a very tight real estate market. She understood with great detail what I needed, worked behind the scenes to help create opportunities not readily available, and followed through on all the various minutia necessary to efficient and effective closings, ultimately assisting me in the purchase of 8 rental buildings in or close to [...]
Mark D.
Rachel was amazing to work with. She was very knowledgeable and asked me questions about what I wanted and was looking for. She was available and helpful in negotiating not only for the offer but as the inspection process came along, she knew what was important enough to ask for seller credit for. I am extremely happy with my new home and very appreciative of Rachel's expertise!!!Rachel was amazing to work with. She was very knowledgeable and asked me questions about what I wanted and [...]
S, Waslick
Rachel was extremely patient, diligent, responsive and professional. She went the 'extra mile' on more than one occasion to market and make our sale possible. I have no hesitation in giving her the best recommendation possible.
rmcorash
Rachel was outstanding to work with. She is friendly, genuine and straightforward in her approach. We worked with Rachel on the purchase of a house in Florence, MA. When we first contacted her, we weren't in a hurry to purchase a house. Rachel did not push, but let us take our time in figuring out what we might like. She provided helpful advice on where to look in Northampton, and for each house we looked at she made us aware of both the positives and the negatives. When we decided to [...]
Chris H.
Rachel knows this community extremely well, having grown up in the area. She is smart, funny, helpful, sensitive and most competent. We felt that we were in very good hands. We recommend her with no reservations. With her help, a stressful time was much easier
Barbara Meyer
Rachel Simpson was a fantastic real estate agent to work with. I was looking for something very specific and she took the time to really understand my requirements and my resources. She had an excellent sense of which houses on the market might be appealing to me. Because Rachel knows the market so well she gave me excellent guidance on how to make good and fair offers and counter-offers. Rachel also has a great many resources for help with inspections, deed issues and plot plans. Buying a [...]
Marta Rudolph